A user-centric web experience. Data-infomed content marketing. Faster, intuitive websites. Your website, optimized.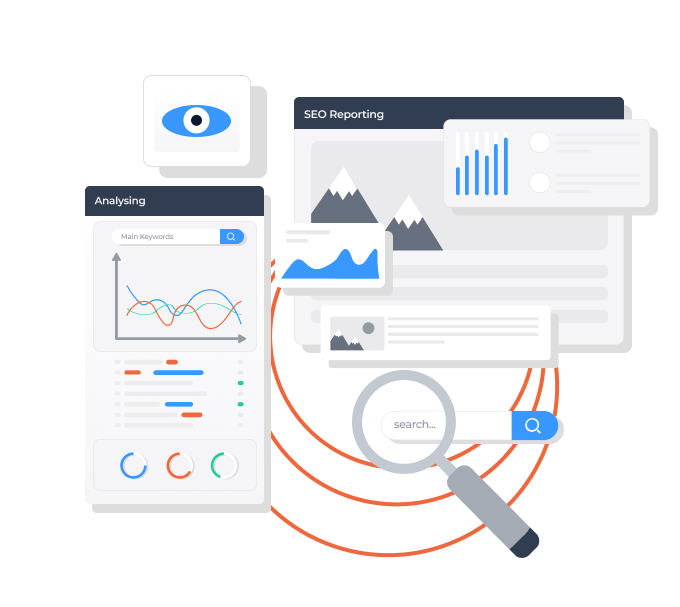 Search Engine
Optimization
We have a unique approach when it comes to search engine optimization, taking a holistic approach to target keywords that drive the right traffic at the right time - because sometimes quality matters even more than quantity.
Google Search is a constantly evolving arena of brands and SERP features. Not only do we identify low-hanging fruit to get some quick wins, but we also provide a roadmap that includes optimizing your website code, copy and content, and the overall user experience to produce optimal results for your business.
At Big Orange Lab, we specialize in Hubspot SEO, Wordpress SEO, and Google Analytics 4.
From landing pages to homepages and every page in-between, our content and UX team is dialed into providing your website visitors an optimal experience and your team with optimal results.
We understand that at the end of the day, website success is determined by measurable results. That's why we create every page with your target audience and their unique user journey in mind.
Decades of UX design experience backed by the insight from scores of A/B tests has equipped our team to craft a layout optimized for conversion.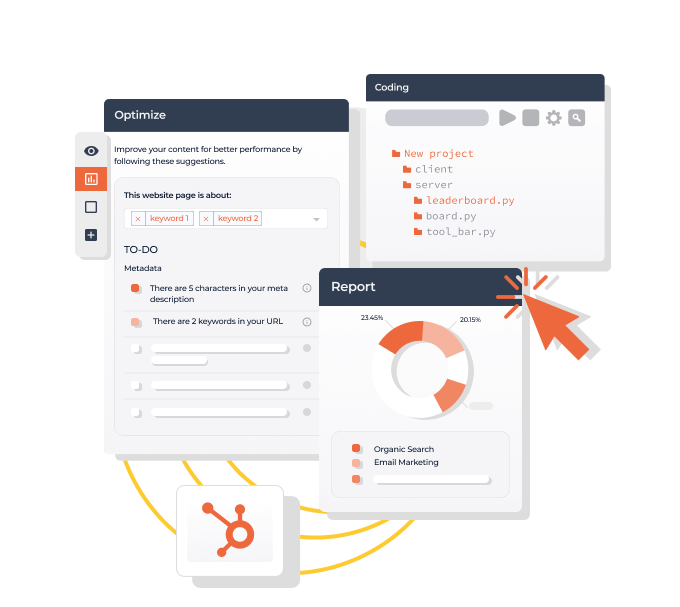 Along the way to becoming HubSpot Gold Partners, we've become intimately familiar with the backend, behind-the-scenes framework used to create themes, templates and pages for HubSpot. We've identified several opportunities and enhanced or improved some of the standard ways that typical HubSpot pages handle loading 3rd-party tools and scripts, data or images. The end-result is a more efficient website with faster load times that result in better search engine rankings and higher conversions for your site.
Our Clients Are Our Biggest Fans
We enjoy our work and getting to know our clients. That combination results in producing meaningful work, and the results speak for themselves.
Big Orange Lab was the perfect partner to go on this journey with us. Not only did they take a vested interest in solving our many technical challenges, but they also helped us to navigate curveballs that arose throughout the project.
Marketing & Business Development Director
Houston Eye Associates

Big Orange Lab transformed the user experience on our WordPress website and elevated our brand. Our site is easy to manage, but I know if we ever need anything, they are always willing to help.The entire team is very responsive and is a pleasure to work with.
Principal
Caramagno + Associates

Wow! Such a freaking cool logo and it is perfect for what we're doing. Big Orange Lab did a fantastic job of listening to our ideas, understanding our unique product and generating some awesome logo concepts. The execution of our final logo was spot on. We love it!
Co-Founder
FryTech R&D, LLC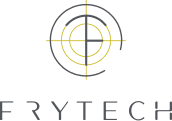 Recent Website UX Projects
We successfully partner with B2B businesses, equity-backed companies, Saas start-ups, digital security companies, human resource companies and professional service firms to